Standing Stones by Larry Joy
Our sadly-neglected Standing-Stones marked between territories in ancient times. This outstanding example is located between Emly and Ballywire in Co Tipperary.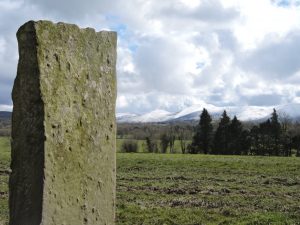 And just to show you the alignment with Temple Hill on the Galtees. These Standing-Stones often date back to the Iron Age and have stood unmolested in their sites for thousands of years…
Standing-stone No 2. Emly, Co Tipperary
Standing-Stone No 3, Bartoose, Emly, Co Tipperary.
(Also aligned with Temple Hill). Standing-stones were used B.C. for religious and ceremonial purposes and traditionally superstition alone prevented any interference. Two standing-stones were recently removed in the locality…
Standing-Stone No 4; Ballinagrana, Emly.
Even on a grey Easter Bank-Holiday Monday our standing-stones stand sentinel. Often dismissed as scratching-posts for cattle, the standing-stone (or Gallaun or Leacht )was often a boundary-marker between territories, a burial place or a gathering place for local tribes.
Standing-Stone No 5: Taken this afternoon (April 4th 2018) in Clashdrumsmith, Emly, with the glorious Galtee range as a backdrop.